The Mystery of The Whispering Wand
This book is the second in a series of metaphysical mysteries by Patricia Rose Upczak. We are Pre-selling it on our website only for $10 with free shipping. Please click on the link below to purchase your copy. You will receive it hot off the printing presses before bookstores or online distributors. Below are a few pages from the beginning of the book. Enjoy!
Rachel
I felt like all the air in my lungs had been sucked out. My heart was pounding rapidly as we all looked around at the amazing, dark, lush green Irish landscape. Peter bent his long frame over, and touched the moist earth beneath his large feet. Brushing his shaggy, red hair out of his crystal blue eyes he said, "Wow!" "This is unbelievable."
Blue Star and her Native American mother Alice Elkhorn sat down breathing deeply with big smiles on their faces. My Grandfather, Captain Gregory, hugged me with one of his warm bear hugs as he said, "Rachel, you are as good as your Grandmother was at time traveling."
"Where are we?" Blue star asked as she walked to the edge of the steep cliff with what looked like hundreds of winding stairs carved into the rock around to the top of the amazing island.
Before anyone could answer Peter said, "Look at those beehive dome buildings. They look like ancient huts, maybe aliens built them."
"What are those crosses with a circle in the middle?" asked Blue star as she braided her long black hair.
Grandfather laughed his deep belly laugh, and said let's rest a bit while I give a little history lesson on Skelligs Michael."
I was so happy to just be sitting in this beautiful place with my Grandfather, Alice, Blue star and Peter. We had been through such a horrible ordeal when some ruffians had kidnapped my Grandfather, Captain Gregory O'Toole near our home at the Heceta Head Lighthouse in Oregon. They wanted the legendary treasure of the pirate Jean Lafitte. We had so many adventures….
---
Resham's Journey
This is an extraordinary book filled with stories that start in a small village in Nepal. Throughout the book are recipes and brightly colored pictures that show you a life of a woman who refused to give up. She overcame struggles, and faced epic challenges including her family being involved in the massive earthquakes that took place in 2015 in Nepal. We are pre-selling this book at a huge discount of $20.00 with free shipping. You will receive your copy hot off the presses before any bookstore or distributor.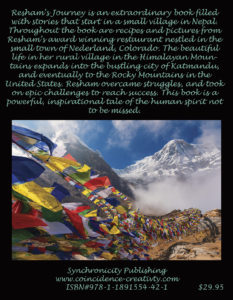 Click here to purchase your copy today
(Click back cover to enlarge)