Resham's Journey
This is an extraordinary book filled with stories that start in a small village in Nepal. Throughout the book are recipes and brightly colored pictures that show you a life of a woman who refused to give up. She overcame struggles and faced epic challenges including her family being involved in the massive earthquakes that took place in 2015 in Nepal.
(You will receive this book for $22.00 if you order it in 2023. After January 1, 2024 the pre-sale is over.) You will receive your copy hot off the presses before any bookstore or distributor.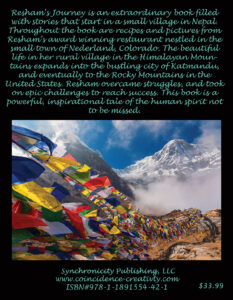 To purchase, contact Patricia Rose Upczak at [email protected] or order online via PayPal.
(Click back cover to enlarge)
Share this page on your favorite social media channels: